Every first Wednesday of the month, this group of writers come together to offer support, advice, encouragement or simply to let out frustrations and woes. Writing is a tough journey, and we don't have to go it alone.
Thanks goes to the brain behind this group,
Alex J. Cavanaugh
! If you want to join in or find out more (because there is so much more to this group) then head on over
here
.
Twitter is @TheIWSG and hashtag #IWSG
Special thanks goes to this month's co-hosts (and these are awesome co-hosts!):
Gwen Gardner, Doreen McGettigan, Tyrean Martinson, Chemist Ken, and Cathrina Constantine!
Hello, October! I'm a huge Fall/Winter fan. So, I'm all smiles this time of year...taking walks in the leaves...enjoying mums and pumpkins...eating apples...apple cider...the cool breeze...
*sigh* Yep, life is good. (Well, as of tomorrow. We've been stuck in this weird heat wave the last few weeks).
Anyway....
I've got a lot to hit today, but I'll start with the question:
It's been said that the benefits of becoming a writer who does not read is that all your ideas are new and original. Everything you do is an extension of yourself, instead of a mixture of you and another author. On the other hand, how can you expect other people to want your writing, if you don't enjoy reading? What are your thoughts?
Can a baker who's never tasted or smelled or touched bread bake? Maybe. But how are they to know if it tastes right, has the right consistency, or even resembles bread? Writing is a learned craft like everything else. You need to know how to write and see writing to become a writer.
Otherwise, I'm in the deep, dark editing cave right now and probably will be there until November or longer. I hope I brought along enough candles and snacks.
******
And now, off to everything else!!!
I didn't have internet the last two weeks. So, not only did I disappear, but so much happened during that time!
First, I was blessed enough to meet two authors during my last signing. This is the first time I've actually come face-to-face with some of you, and wow! What amazing people, too!
Erika Beeba (
https://erikabeebe.com/
) stopped by. Some of you might know her as CloudNineGirl. And what a bright person she is!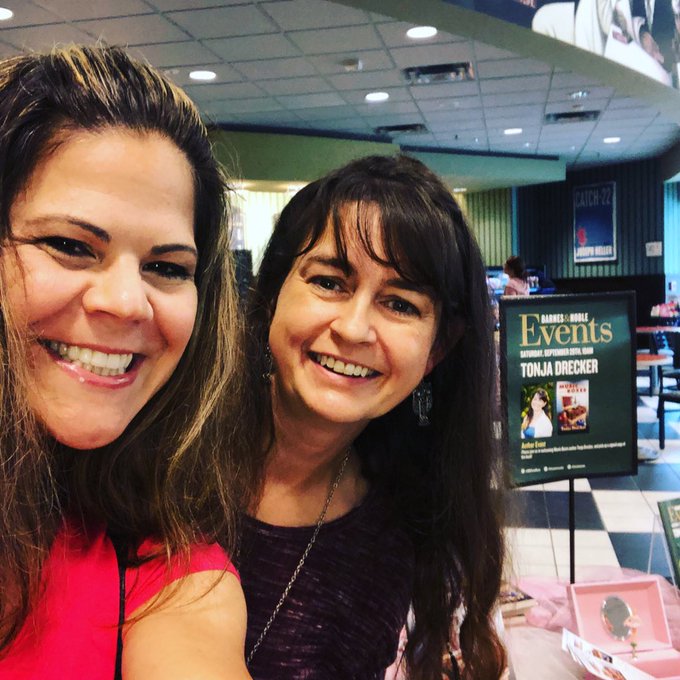 I also met the talented Rosie Russell, who's not only brought out more than a few amazing childrens books but is also an amazing person to chat with.
******
The audio version of Music Boxes is about to be released...
any day now!!!
To help spread the word and celebrate, Silver Dagger Book Tours is helping me run a month long blog tour. I have several guest posts going up (more secrets revealed about me?) and a giveaway for a music box as well as a $20 Amazon GC. So, if you get a chance, you might want to stop by and join in.
A list of stops can be found
here
.
This is where to go this week:
Oct. 2 - A guest post and excerpt at
Silver Dagger Book Tours
,
Twisted Book Ramblings
Oct. 3 -
The Sexy Nerd 'Revue'
,
The Bookshelf Fairy
Oct. 4 -
The Spooky Bookshelf,
Java John Z's
Oct. 5 -
A Pinch of Bookdust
,
Book Corner News and Reviews
Oct. 6 - A guest post at
Readeropolis
Oct. 7-
Literary Gold
,
The Book Dragon
Oct. 8 -
Speculative Fiction Spot
,
Scrupulous Dreams
******
I have another book signing this month!
I'll be at the Barnes and Noble in St. Peters (St. Louis area) on October 18th from 10 am to 2 pm.
If you're in the area, feel free to stop by!
********
What about you? Do you think reading makes it difficult to come up with original tales of your own? What do you take with you into the editing cave? Are you also suffering 90 degree temperatures when it's supposed to be cooling down???
How's your writing life going?