I
t's time for another edition of. . .
CELEBRATE THE SMALL THINGS!
This is a weekly blog hop sponsored by the amazing
Lexa Cain
, and co-hosted by L.G. Keltner from
Writing Off the Edge
and myself. Every week, wonderful things happen, tiny things, which make us smile. But as time grabs us up, we forget all about those moments. This is the chance for us to reflect back on those and remember that there are tons of things worth celebrating.
This week, I'm celebrating. . .
Family fun! The first day of school is approaching fast (2 weeks!), and the kids have all sorts of things they'd like to still squeeze in. So we've been marking a few things off of their lists, which means . . .
- We went bowling! I haven't gone for years and my youngest has never bowled. All I can say is yay to bumper lanes!
- We tried something else new. . .
Now, THAT IS FUN! We're currently considering turning our hay barn (a very large one, I might add) into a private laser tag arena. Okay. Not really. Although I wish we were.
How I wish we were.
- Then, there was putt-putt golf!
Gosh, it was hot! Even the shade trees didn't really help. But it was fun. . .honestly, by the last few holes, I might have secretly shoved the ball in with the side of my foot just to get the whole course done. The kids received lovely treat bags with all sorts of pirate goodies at the end. That definitely made them smile.
- Then, (yeah, it's a list). . .
we went on a cruise around the world!
Ha! Not. That would be my worst nightmare since I get horribly sea-sick. This is actually the Titanic Museum. Very well done and definitely worth seeing. Expensive? You bet! But the kids won free tickets at the Library Summer Reading program...a lovely bonus!
- We've also gone out for ice cream at least half a dozen times....mostly because I'm a HUGE treat fan and love ice cream. The kids are more than happy to support me in this indulgence.
- To top it all off, a new calf was born. It's a super sweet white one and very friendly. My daughter was out hugging and cuddling it the other day, which totally blew me away since they are usually quite skiddish and run away.
- My older daughter made the All -American cheer leading squad, which means she's heading off to Florida for a few days in December to march and perform in the Disney Parade at Disney World. Although she's excited, I think she's having the most fun helping to come up with and organize fund-raisers for it. That kind of thing is right down her alley. She's my social butterfly.
So that was our week worth of celebrations. Quite a bit this time, and I'm not sure we can keep it up for two more weeks like the kids are hoping we will.
What about you? What wonderful things put a smile on your face? Drink a frappe? (I have these on my mind lately.) See a pretty butterfly? Eat a juicy tomato? What are you celebrating?
And before I forget....as if I could forget...the biggest celebration today is. . .
RELEASE DAY for THE THING THAT TURNED ME!!!!
There are tons of amazing stories in this book and not to mention, fantastic authors. The best is that there is something for everyone! Illustrations, Paranormal, Romance, Science Fiction, Historical...you name it.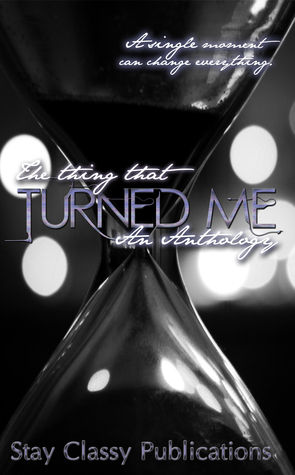 We make decisions every day that will affect us for the rest of our lives: to stay or to go; to rise to the challenge or to crumble under its weight; to take the chance or do we let opportunity pass us by, without knowing what might have been. An open door. A chance encounter. A moment of truth. All such small things that can decide the rest of our lives without our even realizing it.
This variegated collection of authors of varying genres bring you pictures of these chances…these things that turn us—for better or for worse—and change our lives forever.
Will you recognize your moment when it comes?