Today, I'm excited to have the author of a brand new children book series stop by here on Kidbits. And she's even agreed to an interview! Soraya Daise Coffelt has so far published three picture books for children ages 3+ in her
The Love Letters Book Series.
This series offers children the chance to see the true origins behind some of the most important holidays in our culture from a Christian viewpoint. They're super sweet and you can take a glimpse at
It's Not About You, Mrs. Turkey
over on Bookworm for Kids today.
Plus - all proceeds from the sale of her books go toward the non-profit organization, Stars of the Sky (a foundation she established in 2012 with the goal of finding creative ideas for ministering to children -
www.asthestarsofthesky.org
).
But before I go any further, I'd like to welcome Soraya! So glad you decided to stop by.
Author Soraya Diase Coffelt is a native of St. Thomas, U.S. Virgin Islands. She is a widow, mother of two sons, lawyer, lay minister, and former judge. She loves ministering to children. Active in her church, she served as a parent volunteer in the children's ministry and then as a volunteer lay children's minister and leader for over 15 years. She has also participated in missionary trips to Honduras and the Amazon Region of Peru. Her late husband, Gordon, supported her wholeheartedly.
I did a little research and discovered that you're a very active person! A
lawyer, former judge, advocate for bringing improvement to the Virgin
Islands, founder of The Stars in the Sky Foundation, and you're also running
for governor. Oh, and let's not forget being a wonderful mother. With all these

building stones in your life, what moved you to write three picture books as well?
​ Soraya: I was a volunteer lay children's minister at my church for over 15 years. I started out as a parent volunteer because my church needed parents to help in the children's ministry and then I realized that God had given me a gift to work with children and teach His Word in a fun and simple way. I wrote a Christmas play for the children one year, and this eventually became my Mr. Santa Claus book, which was my first book. God has given me many creative ideas, including this series of books.
After learning more about your busy schedule, the next question almost drops

down all on its own. Many writers juggle several hats and are constantly searching for time to write. How do you do it?
Soraya: I intentionally make the time to write. I love children and I strongly believe that literacy is key to a child's successful future, because it was for me. My mother taught me to read when I was very young and I started first grade when I was 4 years old. I was always ahead of the other students in my class. If it wasn't for my mother teaching me to read and developing within me the love of reading, I wouldn't have achieved what I have today. I have a quote on my website "Reading helps children achieve their divine destinies." This is something that I am passionate about and the passion drives me. ​



What is your favorite part about writing? And what would you rather eat worms than do?
Soraya:

My favorite part of writing is trying to make the content funny and interesting and of course, understandable. Since I have worked with children for many years, and have two of my own, I can almost get into the mind of a child. I try to think how they would think. They love to laugh and ask a lot of questions. Illustrations are also extremely important with children's books. I spend a lot of time guiding the illustrator as to what I would like and reviewing and making changes where necessary. The illustrations in my books are guided and directed by me as I believe they are critical to conveying the message I want to send.

I would never eat worms!​



You mentioned that your mother helped you to discover the joy of reading. What were your favorite books while growing up?
Soraya: I loved Pippi Longstocking books, books by Louisa May Alcott, including Little Women, and Nancy Drew mystery books, to name a few. Once I liked a book, I would research what other books that author wrote and then read those as well. ​



Sounds like you went through a lot of books, and I bet you still like to read. What are you reading right now?

​
Soraya: ​I'm reading two nonfiction books: Parting the Waters - America in the King Years 1954-1963 by Taylor Branch and Daughters of the Samurai by Janice Nimura. On the weekends I watch CSPAN's book channel and listen to authors talk about their books. When I hear about a topic that interests me, I order the book.



As we all know, there's more to life than reading, writing and working. When you have a few free moments, what do you like to do?
Soraya:

​ I love to read to children. I volunteer and read at Head Start Programs, clinics, schools - where ever and whenever I can. ​



Since you have so much to do with children and helping them grow, I'm curious - What was your biggest wish as a child?

​
Soraya - I wanted to become an author and a lawyer. ​I never thought that I would be a children's author though.
Well, I think you found a perfect place as a writer. The books are adorable.

Can we expect more works from you in the future?

​
Soraya -

Yes, definitely. I will have my 4th book

​released by the end of the year hopefully-

It's Not About You Mr. Easter Bunny - A Love Letter About The True Meaning Of Easter

It is already finished and illustrated and on its way to the publishing company. I will also have one out about the 4th of July. I'm researching and writing that one now.
I'll have to keep my eyes open for that one too, and I can't wait to see what
other holidays you might add to the series. Thanks for stopping by!
If you're curious about the other books in the series, I reviewed
It's Not About You, Mr. Pumpkin
over on Bookworm for Kids
here
.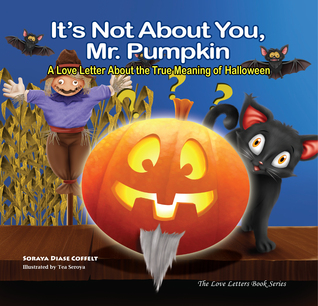 And don't forget about
It's Not About You, Mrs. Turkey
over on Bookworm for Kids today!
To round it off, you might want to take a peek at
It's Not About You, Mr. Santa Claus
for the next coming holiday already too . . .